Monday, April 21st, 2008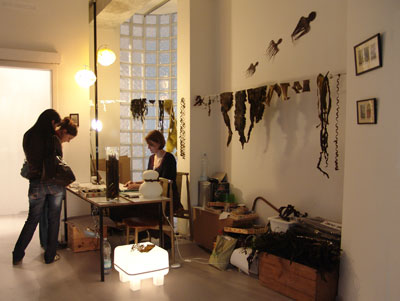 For the Saloni di Mobile in Milano we built a workshop in Galleria Nilufar.
Instead of finished products we brought 8 kg of kelp from Japan and Ireland and our tools with us and produced the finished pieces in the gallery. There was a real buzz about the new material and our visitors were very excited to mbe able to see the whole working process and touch the material in its different stages of prodcution: dried, re-hydrated, stretched, varnished, unvarnished.
The Irish kelp turned out to be beautifully translucent and green whereas the Japanese Kombu was much browner and hard, almost like a 70's plastic.
You can find a video of the opening on Core 77 and more images on Dezeen